Quality is our top priority. Customer satisfaction is a priority for us. We constantly meet the needs and expectations of our customers by implementing the following principles: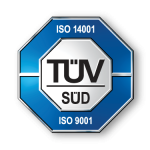 Meeting requirements of ISO 9001
Continuous improvement
Increasing professional competence
Customer relationship management
Effective use of resources
Our company successfully implemented environmental management system in accordance with ISO 14001. We want to contribute to the quality of the environment by our environmental behaviour.
We take into account the environmental needs in all activities.
We increase the environmental awareness of our employees.
We reduce the consumption of all types of energy.
We reduce the volume of waste and use recycling.
We transfer our environmental attitude to our business partners.
In February 2017, our company acquired a
SCC certificate.
Our priority is the customer satisfaction by providing quality and reliable services with maximum level of safety and health at work.
We continuously improve the OHS and Fire protection system.
We regularly educate our employees.
We strictly comply with all legislation.
We take measures to prevent accidents and occupational diseases.
We provide high-quality Personal Protective Equipment for all employees.